LC Armored Panels can be placed vertically or horizontally; they are fully compatible with our Standard Panels and E-Panels. The series 300 core is standard. Although, you have a choice of 8 different protection levels and panel sizes up to 4'x9'





363 W 3rd St., Perris, CA 92570
(951) 940 6068 Business, (951) 657 0180 Facsimile


Mobile LC battle Panels feature a high quality laminated bullet resistant Fiberglass core sandwiched inside our Molded Expanded Polystyrene (MPS). The surface is still gentle to the touch, tackable, but the centered fiberglass core is exceptionally strong. The weight of each 4'X6' LC Armored Panel is 115 lbs. (UL-3). Although we can usually custom make the panels to your sizea and protection rquirements.
Call or email for current pricing
We use vendor supplied UL Listed Bullet Resistant Fiberglass. This material is manufactured using a starch-oil woven roving ballistic grade fiberglass cloth. The cloth is mechanically injected with a thermoset polyester resin and placed in a hydraulic hot press, then pressed into flat rigid sheets up to 4' X 9'. By using a starch-oil ballistic grade fiber in the cloth, the ballistic performance is maximized by consistently achieving a uniform resin to fiber ratio. This allows the proper ply delamination to encapture projectiles. Excessive resin left behind in the manufacturing process results in a thicker, less effective product. By using the correct amount of pressure and heat during the curing process, excessive resin is eliminated from Bullet Resistant Fiberglass, always resulting in a product that provides the maximum amount of protection at the lightest weight. This Bullet Resistant Fiberglass is approved by the U.S. Marshal Service, the General Services Administration, and complies with NIJ standards.
Mobile LC Battle Panels are compatible with LC Trucks. and special fabrics. These bullet resistant panels can be wheeled into place when needed and wheeled back into storage when not needed. The optional LC Trucks make the extra weight of the armored panels easy to move about.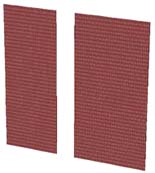 Need just the cores?
Series

Wt.

Thick ness

Protection Levels

Weapon

Ammunition

Velocity

3'x8'

4'x8'

lbs/sq.ft. (kgs/sq.mtr)

ft/sec

60

1.2 (6)

1/8 (3)

NIJ I

.22 LRHV

.38 Special

40 Gr. Lead

158 Gr. Lead

1050±40

850±50

Call

Call

80

2 (10)

3/16 (5)

UL1 (MPSA)

9 mm

124 Gr. FMJ

1175-1295

Call

Call

100

2.4 (12)

1/4 (6)

NIJ II-A

.357 Magnum

9 mm

158 Gr. JSP

124 Gr. FMJ

1250±50

1090±40

Call

Call

200

3 (15)

5/16 (8)

NIJ II, UL2 (HPSA), UL 6

.357 Magnum

9 mm

158 Gr. JSP

124 Gr. FMJ

1395±50

1175±40

Call

Call

300

4 (20)

7/16 (12)

NIJ III-A, UL3 (SPSA)

.44 Magnum

9 mm

240 Gr. Lead

124 Gr. FMJ

1400±50

1400±50

Call

Call

350

5.5 (27)

9/16 (14)

MIL-STD, 662E V50

.30 Carbine

12 GA Shotgun

110 Gr. FMJ

1 oz. Slug

2109

1864

Call

Call

400

12 (59)

1-3/16 (30)

NIJ III

UL4 (HPR)

UL5

UL7

7.62 mm Rifle

.30 CAL Rifle

7.61 mm Rifle

5.56 mm Rifle

150 Gr. FMJ

180 Gr. SP

150 Gr. FMJ

55 Gr. FMJ

2750-3025

2450-2794

2750-3025

3080-3388

Call

Call

460

13.4 (66)

1-5/16 (33)

UL8

7.62 mm Rifle

150 Gr. FMJ

2750-3025

Call

Call
UL listed products levels 1,2,3,4 and 6 (UL 752 8th edition revised 04/29/94
UL 752 Revision dated 04/29/94 as tested by H.P. White laboratories levels 5,7,8
NIJ - National Institute of Justice, UL - Underwriters Laboratories, FMJ, Full Metal Jacket, JSP - Jacketed Soft Point, MPSA - Medium Power Small Arms, HHPSA - High Power Small Arms, SPSA - Super Power Small Arms, HPR High Power Rifle, SP - Soft Point
No problem! These internal cores are the thinnest and lightest that you can buy for the level of protection provided. Listed below are ballistic fiberglass cores in 8 different protection (thickness) levels. Choose the series number you need, and request a shipping quote.
3'x8' and 4'x8' prices are listed, 3'x9' and 4'x9' are available! For pricing, we need to call our vendors to get the latest costs involved. give us a call or email us with your needs.

Compare LC Panels, our prices, our custom work, and our speed with any competitors:
On behalf of cubicle dwellers everywhere, we think that cubicles could include certain features that make cubicle exsistence more palatable:
1) Video camera/monitor that watches the boss, so you can see his whereabouts and mood.
2) Lockable one-way reflective glass door, so you can see who wishes enter into your cubicle.
3) Special cubicle hammock, that swings out for use in the afternoons.
4) TV monitor mounted in the ceiling, complete with satellite reception and a remote.
5) Cubicle sound machine, that generates typical office sounds, coming from your cubicle.
6) Direct cubicle intercom that enables vocal contact to your best friend, in the other cubicle.
7) Private secretary that actually performs all of the work that the cubicle dweller is supposed to do.
8) Special cubicle disco ball and music that turns on, whenever you think of something great.
9) Special cubicle clock that starts your shift 30 minutes late, and ends 30 minutes early (maybe 45).
10) Coffee/cappucino machine built into cubicle wall
Funny cubicle thoughts:
Whether called office walls, office panels, office partitions, or just "panels", These interior separators will allow office workers to have a little more privacy, which theoretically will allow these workers to focus better on their respective tasks. What we offer at LC Enteprises is a very cost effective way to accomplish this goal. We have the lowest price of any manufacturer of this kind of product. However, getting this information to the consumers is a challenge.
Google is currently 80% of the search engine market, and we seldom appear at the top of the website rankings. Many larger panel websites rank higher than our website. There prices are much higher, and so, we wonder if they are getting any orders. However, their popularity on the search engines is undeniable. This seems to be due to the number of pages and links contained in the website. If a person types "Office partitions, panels", into the google search engine, we come up on page 1. However, if the person types: "Office partitions, panels, cubicles" into the google search engine, we appear back on page 5.
Some folks type "office walls, office cubicles", or just plain "cubicles", and we're not sure where we end up. We're so far back, that it's too hard to look for our website.
The keywords and phrases that we can think of would be: Office panels, office partitions, office walls, office dividers, panels, partitions, walls, dividers, room dividers, room walls, room partitions, room panels, cubicles, office cubicles, room cubicles, modular walls, modular cubicles, modular dividers, modular walls, modular panels, temporary walls, temporary panels, temporary cubicles, temporary partitions, temporary dividers. Beyond that, we can't think of any other words that a potential customer would type into a search field. Now, it seems we are adding words and text to our website, which doesn't help our customers. We are simply trying to increase our rankings with the search engines, in an effort to find customers. Such is the animal. We hope you will understand the nature of running a business on the internet, and tolerate the redundant information, useless text, and links to everything. We know that this does not really optimize the website for our customers. However, it can help to optimize our rankings, which helps customers find our website. In the end, we want to stay in business, and we must adapt to the search engine monsters, or perish. As aforementioned, such is the animal.
LC Battle Panels, Bullet Resistant Office Panel Systems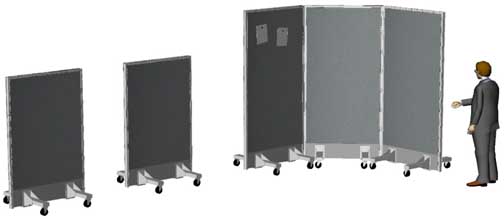 Above is a picture of our stronger UL5 rated ballistic panels (7.62 rifle, 150 grain). The wheel trucks are stronger since a 4'x8' unit can weigh around 450 lbs. These wheel trucks are equipped with "total lock" casters, where the wheel and rotation can be locked. These are upholstered with a fabric and tackable core. The cost runs around $1500-1700 each depending upon quantity. The casters are placed so that a 90° angle can be acheived with only three panels. Other designs, sizes and colors or messages (signage) are available. Just tell us your needs.
Mobile LC Battle Panels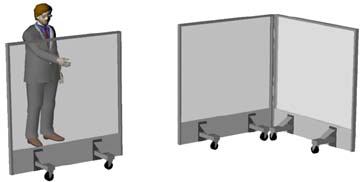 Here is a sample of the clear UL-5, LC Battle Panels. This can be directional (attack side and safe side) or bi-directional meaning that it doesn't matter which side gets shot at.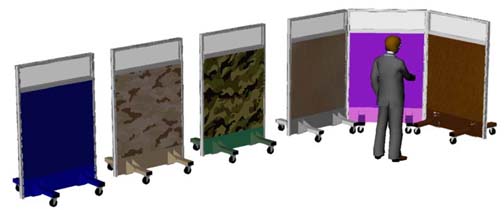 This image shows the diversity of colors and styles that are available along with a window at the top, all ballistic rated. We can make these mobile LC Battle panels look like anything. Just tell us what you need
LC Enterprises can offer "rated ballistic glass" or a product that is not officially rated by Underwriters Laboratories (UL) or the National Institure of Justice (NIJ). The cost for the unrated product is about 1/2. The performance is about the same. Above is a test of the unrated ballistic glass/polycarbonate product. It stopped a single 7.62mm round with no spalling in the back. This is similar to what the UL-5 officially rated ballistic glass will do. While the rated glass costs around $70-$80 per square foot, the unrated glass can cost around $35-$40 per square foot. We can offer either product in a bi-directional or directional version.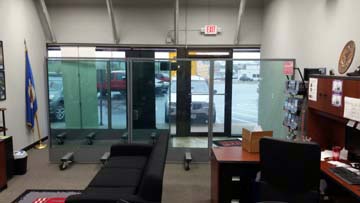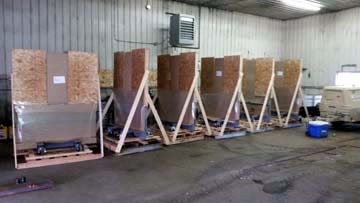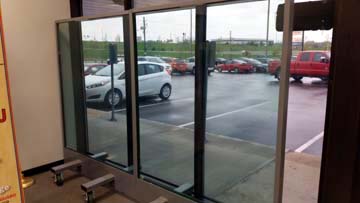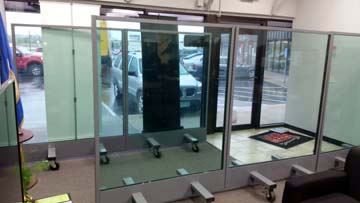 LC Battle Panels "clear" for the Minnesota National Guard,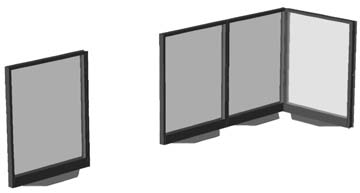 Mobile LC Battle Panels clear and non mobile. ADA compliant. Panels will interlock. Flat pedestals, no tripping hazard. Double overlap at joints prevent bullet intrusion.
This is an example of an outdoor model. We usually employ a smooth hard surface rather than a fabric. This model has lift hooks at the top and a heavy duty steel frame, all UL-5 compatible.
The LC Air Gap (patent pending) method allow us to create a bullet resistant hard surface connector system, that also prevents ricochet. The advantage over a fiberglass approach is cost savings, weight savings, and a thinner profile. From a manufacturing perspective, the product is simple to make, and the connections from panel to panel can be stronger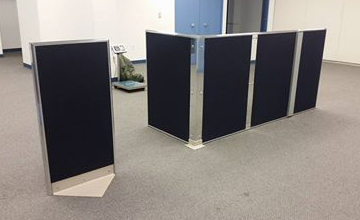 UL-8 stationary LC Battle Panels featuring the LC Pedestal (patent pending) and our anti-ricochet connector system. This is for the US Army Corps of Engineers.
Below is a short video of production of the stationary type of LC Battle Panel, for office use. We also produce mobile types